Complex communications management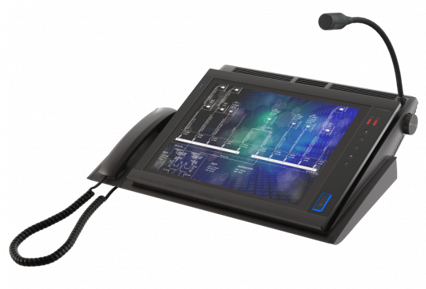 Operator Console with a modern design and advanced funcionalities conceived to satisfy operational needs in high traffic environments, from hospitals to hotels, Public Security bodies, large enterprises and corporations. Dispatcher Console is based on standard SIP and Line State Server services on SELTA SAMIP® and BRAVO® platforms to enable an effective inbound, towards other lines and internal phone numbers.
SELTA Dispatcher Console is available in software version, to be installed and run on Windows PC, and in all-in-one version on dedicated HW, for mission-critical operating environments. Dispatcher Console terminal includes usb reveiver and speakerphone.
CUSTOMIZABLE AND TOUCH
It's a last generation software operator station, designed with touch-screen both for PC and 15'' dedicated terminal display. The screen layout and the 200 programmable keys can be customized, while receiver and integrated speakers offer very high level of audio quality. Shortkey usage for activating main functions, simplify operators activity. Magnifier functionality satisfies low vision people needs with the possibility to connect Braille bar for blind people (optional). Public and private address books are managed via LDAP integration.