Empowering industrial IoT connectivity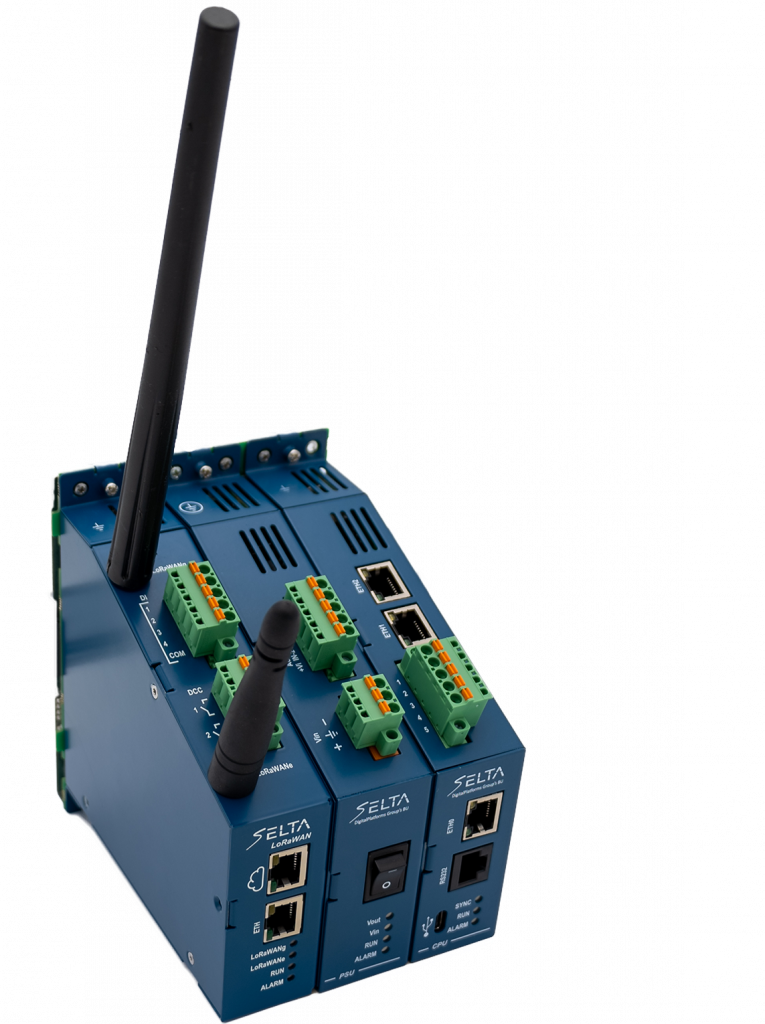 DP-SELTA STCE-SG IoT & LoRa module serves as an Industrial IoT Gateway, linking End Nodes – representing smart edge devices and sensors spread across a wide area – with a central network or cloud platform for storage, analysis, and visualization. Its high sensitivity allows the module to receive weak signals from distant devices even in challenging environments. As a Gateway, the module converts legacy serial protocols to modern IP-based protocols, enabling seamless communication from the IP SCADA to both the old and new RTUs.
Functioning beyond its gateway role, STCE-SG IoT & LoRa module extends its capability as a Long Range (LR) transmitter and facilitates the gathering, receiving, and secure transmission of encrypted data from widely dispersed End Nodes to LoRa gateways ensuring the confidentiality and integrity of the data which are a critical facet in the industrial landscape.
With integrated Network and Application servers, STCE-SG IoT & LoRa module offers powerful Data Aggregation and Edge IoT Computing* by hosting 3rd party container software for customized applications capabilities for localized storage and processing of consolidated data from multiple End Nodes. This integration helps to reduce latency and minimize the amount of data transmitted to the cloud.
Built to address the requirements of the Low Power Wide Area Network (LPWAN), STCE-SG IoT & LoRa module enables efficient long-range communication, energy-efficient data collection & processing, and cost-effective management for a variety of industrial applications to become an ideal solution for rural and other non-dense areas saving CAPEX and OPEX.
STCE-SG IoT & LoRa module features DIN-rail mounting, a wide operating temperature range (-25°C ÷ +65°C) without active fan support, and safe data processing operations at humidity levels between 5÷95 %.
Key Features and benefits
Long Range: STCE-SG IoT & LoRa module has a remarkable connectivity range of up to 15 kilometers, penetrating dense urban or deep indoor environments.
Scalability: STCE-SG IoT & LoRa module is designed to effortlessly handle a large number of connected devices, making it suitable for industrial environments where numerous sensors and devices are deployed.
Power Efficiency: Engineered for power efficiency, STCE-SG IoT & LoRa module guarantees uninterrupted operation while keeping energy consumption optimally low.
Redundancy and Reliability: The module comes with failover mechanisms and backup connectivity options, ensuring uninterrupted mission-critical operations.
Device Management: STCE-SG IoT & LoRa module provides means to manage and configure connected IoT devices remotely, facilitating tasks like firmware updates, device provisioning, and comprehensive diagnostics.
Embedded Advanced Security: The module offers an array of built-in security features, including Port filtering, Application Firmware Signature, Configuration Signature, Secure Boot, Certificate Management, Data and Communications Security, Access Control and Authentication methods, Monitoring and Diagnostics, and Anti-tampering.
Data and Communications Security: TLS/AES encryption to provide Confidentiality, Integrity protection, and message level authentication between 2 endpoints of communication according to the IEC 62351-3.
Access Control and Authentication method: Role-Based Access Control in SSH/Web Server, Remote Authentication in Dial-In User Service (RADIUS).
Monitoring and Diagnostics: Syslog, Alarm and event logs, Security log.
Anti-tampering: FIPS 140-2, HW intrusion detection in the CyberSec version.
MAIN CHARACTERISTICS
CPU: ARM i.MX7 2core 1GHz + Cortex-M4 200MHz real-time co-processor, offering high-efficiency signal processing capability with low power consumption and cost-effectiveness
Memory: 1GB DRAM, 8GB Flash memory, 8GB Local storage
LoRa Modulation: EU 868
LoRaWAN MAC options: Class A, Class B, Class C
Uplink Channels: 8 simultaneous channels
Average Power Consumption: Less than 5 W (stand-by)
PSU: 24/48/110 VDC @ 1.2A
OS: Linux-embedded Yocto Project
Timing: NTPv4 server, IEC 60870-5-101/104, IEC 1588 PTPV2, GPS receiver SELTA / Trimble
Communication protocols: IEC 60870-5-101/104, Modbus RTU/TCP, Server/Client IEC 61850 ed.2, MQTT Pub/Sub, SNMPv3
I/O interfaces:
2 x GbE – RJ45 10/100/1000BASE-T
4 x 24/48 Vdc optoisolated Digital Inputs
2 x Relay-based Digital Outputs with free contacts
2 x SMA (wireless interface to the field nodes or uplink)
Supplied Accessories:
LoRaWAN antenna
Connector: SMA plug
Frequency range (with VSWR < 2:1): 30MHz
Gain: > 2.1 dBi
VSWR: <1.5: 1 in 868 (or 915MHz)
Impedance: 50Ω
Polarization: Linear
Max transmission power: 15 W
Beam width: 360º
Additional connectivity options:
Bluetooth Low Energy (BLE) 4.2
Wi-Fi 802.11 a/b/g/n/ac
Certifications:
EMC Directive 2014/30/EU
Low Voltage Directive (LVD) 2014/35/EU
EMC RED Directive 2014/53/EU
Interoperability:
STCE-SG CPU: All RTU & CYBERSEC features (IEC 62443-4-1/2, anti-tampeting, Cybersecurity Hardware FIPS 140-2 Level 3)
DP Selta IoT Suite: cloud IoT platform for utilities & energy
Conclusion
DP-SELTA STCE-SG IoT & LoRa module empowers Industrial IoT by seamlessly connecting devices across wide areas, ensuring high sensitivity even in challenging environments. It acts as a gateway and long-range transmitter, ensuring Confidentiality, Integrity, and Availability of Data. With advanced security, scalability, and energy efficiency, it's an ideal cost-saving solution for diverse industrial applications.