Ultra compact sealed IP-DSLAM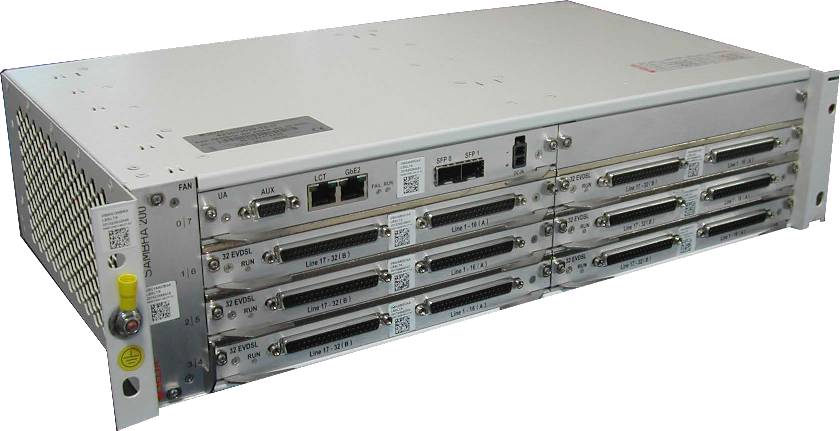 L'architettura di SAMBHA® 200 è in grado di offrire connettività a banda ultra elevata fino a 192 utenti VDSL2 (o 384 utenti con xDLV) su infrastruttura in rame esistente come un IP-DSLAM, supportando le tipiche interfacce di un nodo di accesso multi-servizio.
SAMBHA® 200 eroga servizi di accesso con un'elevata flessibilità e scalabilità. Può essere utilizzato in scenari di tipo FTTB (Fiber To The Building), FTTC (Fiber To The Curb / Cab), FTTN (Fiber To The Node). Il sistema è modulare e configurabile sia come MSAN che come IPDSLAM vectoring-ready, pronto per fornire agli utenti servizi dati a banda larga e servizi voce, sfruttando l'infrastruttura in rame esistente o la fibra ottica. Nella configurazione IP-DSLAM, il sistema SAMBHA® 200 consente agli operatori di fornire applicazioni che richiedono alta disponibiltà di banda proteggendo l'investimento infrastrutturale esistente. Gli operatori possono ridurre le lunghezze dei circuiti in rame, riducendo i costi di scavo, e aumentare la banda disponibile con il DSL in tutti gli scenari FTTx.
SAMBHA® 200 offre due porte uplink 10GE e fornisce molteplici servizi grazie alla sua flessibilità di configurazione. I servizi vanno dalla voce, ai dati, al video, attraverso schede VDSL2 con vectoring, POTS, GbE ottiche SHDSL o P2P per servizi leased line.
caratteristiche tecniche
Architettura Ethernet non –blocking
VDSL2 con vectoring (con SLV e xDLV) e bonding
VDSL e ADSL fallback
Multicast con IGMP snooping
Priority queuing for QoS
Gestione completa con la soluzione SELTA Element Manager
Servizi POTS (SIP e H.248)
Connessione GbE Point-to-Point su fibra e E1 SHDSL